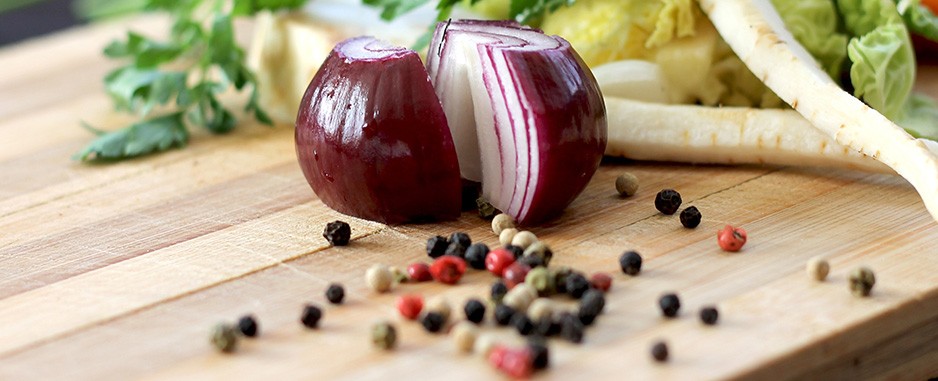 When purchasing your new kitchen sink, it goes without saying that you will need a kitchen tap. However, we are asking whether it's worth buying one of the many accessories that are on offer. In some cases, a single accessory, such as a chopping board, can be a considerable additional cost.
In this article, we ask specifically whether a chopping board for your sink is useful or useless, and which of the two types is worth considering.
A dedicated chopping board, made for use with a specific kitchen sink, has been designed to fit either directly onto the sink bowl, the drainer or sit over the top of the sink and slide from side to side. The two most popular materials used to produce chopping boards being wood or glass, each has its good and bad points. Wooden chopping boards give a more rustic, traditional feel and go well with ceramic kitchen sinks. Glass chopping boards, on the other hand, fit better with a more modern or contemporary style kitchen sink. So I suppose the first thing to consider is which will look better in your kitchen?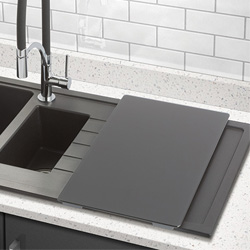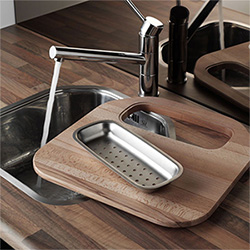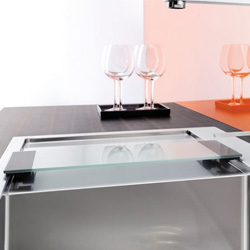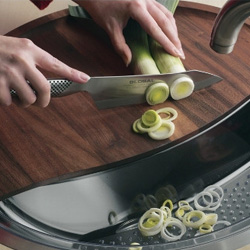 Wooden chopping boards are more forgiving in use. For example, if you drop it onto the kitchen worktop, it's not too likely that you will smash it into many hundreds of small pieces, as you would with a glass chopping board. So it's worth taking into consideration who is using the board and is there a likelihood it could get broken? Glass chopping boards are generally easier to clean and can be simply wiped down and sanitised. Wooden chopping boards are more prone to warping/splitting due to water damage, as they are made up of a number of strips of wood glued together.
There is also the basic usability of the board. Many people don't like chopping on a glass board and, for some reason, feel more at ease when chopping on wood. Maybe a wooden board is more tactile to handle and less clinical feeling than a glass board.
Some wooden boards have a section missing in the corner. What is this, I hear you ask! Well, we think it has two possible uses. The first is when the board is placed onto the recess of the sink bowl, you will, at some point, need to lift it back out, hence the small missing section to enable lifting the board off. The second possible reason is to be able to quickly discard the leftovers; slide the unwanted scraps off the board and into the sink bowl for easy collection afterwards.
Some wooden boards are also made to a shape that sits into a recess on the drainer area of the sink, giving another flat area to undertake other tasks, without causing possible damage to the sink. This can become a stable flat area for putting down other kitchen objects such as mixing bowls or weighing scales, or even using as a resting ground for pans from the hob or hot trays from the oven - all particularly useful in a kitchen where worktop space may be limited.
Treated with care, both a wooden chopping board and a glass board can last for many years and be a real asset in a busy kitchen. Most customers will choose a chopping board based on: a) what is available, as not all manufacturers have a specifically shaped model and b) what style suits your kitchen. An ultra modern kitchen with a super stylish stainless steel sink is going to look better with a glass board, rather than a chunky, traditional board.
At the end of the day, what suits your needs is what is really important. A chopping board can improve the usability of the kitchen sink and makes the area a useful space for food preparation and placing hot pans/trays. The days of using a sink just to wash up are long gone. A kitchen sink, combined with a number of accessories can be a useful and practical.