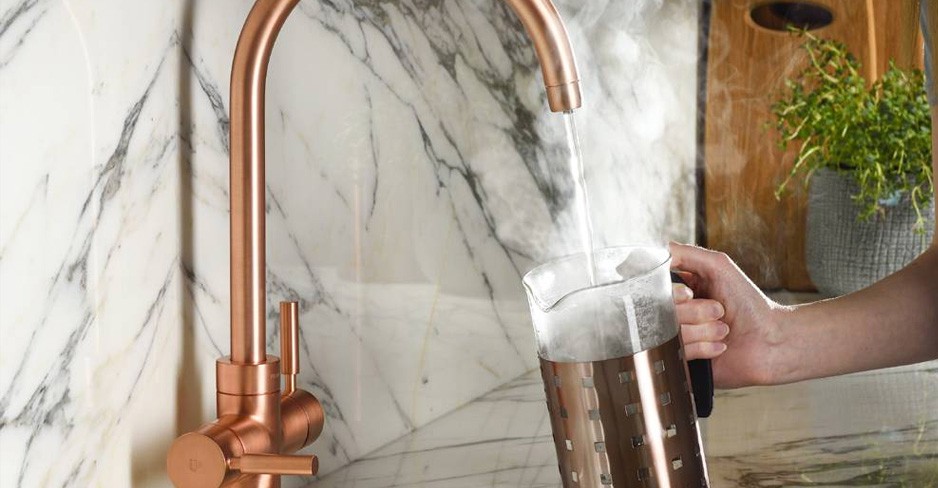 The days of the humble kettle may well be numbered!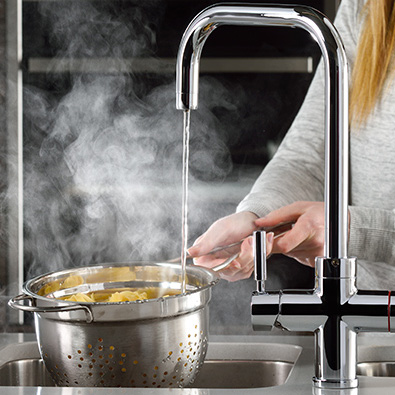 Consumers looking for a more advanced, reliable and convenient way to obtain water in a single, instant way is now possible thanks to steaming hot water taps. Many manufacturers who may have previously produced standard taps or filtered water taps, have now added to the range and offer a steaming hot water tap or 100° boiling water tap. The traditional way to produce hot water for a hot drink such as tea and coffee would be to overfill a kettle, normally with at least 50% more water than you actually need, then wait for it to boil. During this process, you are inevitably going to be blasting the underside of your kitchen cabinet with steam - meaning any laminate edging or wooden trim or even the vinyl wrap on your doors will now be under attack. It will only be a matter of time before the steam from the boiling water does damage that cannot be reversed. After the kettle has boiled and switched itself off, you may well go back again as you missed it the first time due to being on the phone, answering the door or watching TV. So what do you do next? Only switch the kettle back on and reboil the water for a second time!!
Although the initial cost of a boiling hot water tap can be considerable when comparing to the humble £49 kettle, its worth noting that some manufacturers' tests on the efficiency of the steaming hot water tap, shows they can be up to 40% more efficient. What you also have to calculate into the equation is the sheer convenience. Simply grab a cup, walk up to the tap and dispense instant hot water! Not only does a hot water tap make complete sense in a domestic home but also has major benefits in a small office too. We had one of these products installed in our staff kitchen and found the time taken by staff to make a drink and return to their desk was dramatically reduced! A worthwhile investment that actually paid for itself in no time.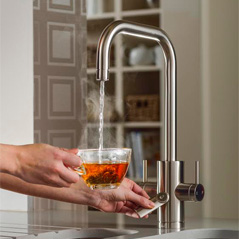 Whilst the majority of installations will be in consumer's homes, the benefits are there to see. We have a wide range of styles and colours available from a range of manufacturers such as Abode, Caple, Perrin and Rowe, Gessi, Franke and In-Sink-Erator. Each manufacturer has various features and benefits and the product pages detail all the available information for you to make the decision on which model is best for you.
There are basically two different types of hot taps available - a single tap that provides either just boiling hot water or cold and boiling water, then you have the 3 in 1 models which provide normal hot and cold water and the addition of boiling or near boiling water. Depending on your exact requirements and space available, you should be able to find the perfect model to suit your needs.

The latest development in kitchen hot taps is the introduction of the 4 in 1 models. These taps offer (as the name suggests) four supplies from one single tap - normal cold water, normal hot water, boiling or near boiling water and finally filtered cold drinking water. One of the most popular British Companies to produce a wide range of 4 in 1 models is Abode. Within the Abode range you will a stylish, feature packed product that is not only incredibly practical but also has a unique hot key feature for added safety. The Pronteau Range of 4 in 1 boiling hot water taps can be found in either chrome or brushed and all carry a comprehensive manufacturers 5 Year Warranty.