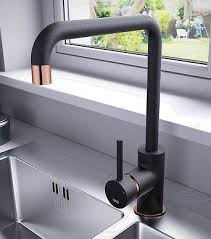 At sinks -taps.com we stock thousands of high quality, stylish products. It was great to see on Channel 4's George Clarke's Old House New Home program in Stratford upon Avon, an 1810 kitchen tap being featured.
The Cascata kitchen tap is actually available in a range of coloured granite type finishes, including Black, White, Grey, Champagne, Mocha and Concrete. The model shown on the TV program was the Black finish with the Copper highlights.
The current trend and design of Copper elements is clearly a popular choice, for the program to choose this particular model further confirms the rising popularity in adding a Copper theme to your new kitchen.
George Clarke clearly knows a thing or two about interior design and especially how to make your new kitchen sink or tap stand out from the crowd!
We have the Cascate tap available today. If you would like to find out further information or technical detail, please contact one of our expert technical team members on 01759 307262.