Many products in the home are available in a range of different finishes such as satin, brushed nickel, silksteel and chrome. Many manufacturers of kitchen taps provide models or designs in a choice of chrome or brushed nickel. So just what is the difference between a chrome tap and a brushed nickel tap?
In this section, we try to explain as best we can the exact difference between the two and attempt to help you make the correct choice when purchasing your new kitchen tap.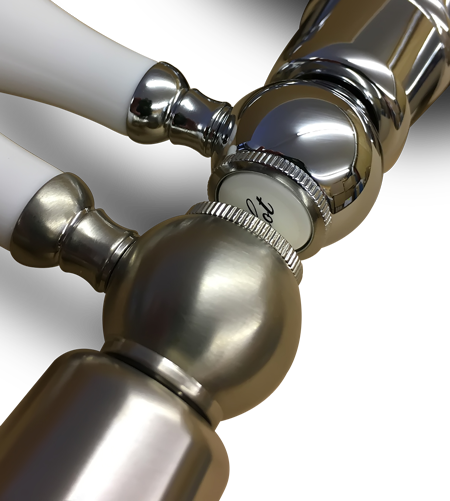 So, let's start with the basics. Chrome finish can be best described as a shiny mirror finish! It's bright, light and super shiny; it reflects everything around it and in most cases (not all) it has a modern, clean look. Chrome is by far the most popular choice with 9 out of 10 taps we sell being chrome. However, it's worth bearing in mind that one of the reasons chrome is the best selling finish is that many manufacturers only produce chrome kitchen taps and don't offer any other options, such as nickel.
Brushed nickel is more of a subtle, softer looking finish. It has a slightly brushed appearance with a semi-satin finish. Some customers think of a brushed nickel finish as looking more like stainless steel and, therefore, it can tie in with stainless steel kitchen appliances very nicely. However, in certain lights, brushed nickel can appear to absorb the light around it giving a slightly yellow appearance.
There is not a considerable difference in terms of durability or life expectancy between the two different finishes. Both are plated surfaces and need to be carefully looked after without the use of any corrosive/acidic cleaners. Regular soapy water and a soft cloth is all that is needed. Chrome shows every finger print, but can be cleaned off or polished very easily. Brushed, on the other hand, is just as easy to clean, but will disguise finger prints and marks better than chrome.
Many customers ask which finish would look better on a stainless steel sink. Although there is definitely not a single, correct answer, our advice is to go for chrome! The reason for this is simple, if the tap is sitting directly onto a stainless steel sink, the difference between the brushed nickel finish and the stainless steel sink is made more obvious. Sometimes, the slight difference between the two products becomes more obvious as it looks like you tried to get them to match and failed! If you look at most stainless steel sinks, you will see a chrome tap has been fitted. No one would ever look at this combination and ask, 'Why have you fitted a chrome tap?' It's simply the norm!
However, everyone is different, and it can also depend on the type of installation you have. For example, customers fitting a stainless steel undermount sink have a piece of worktop between the sink and the tap. Therefore, fitting a brushed nickel tap to the worktop can look fantastic and tones in perfectly with the brushed look – especially if you have other brushed finish items in the kitchen, such as brushed door handles, a brushed steel cooker or cooker hood.
We have tried to show an example of the chrome finish against the brushed nickel. Hopefully, this will give you a little more insight into the two finishes. If you would like further information or have any questions we haven't covered, please contact a member of our sales or technical team on 01759 307262.